Geetagovinda seva in Sri Mandir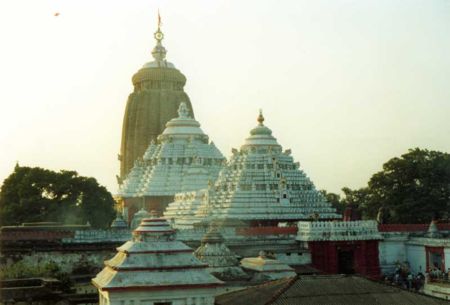 1.The Gitagovinda Seva :
The functionaries engaged in this service are known as the Sadhibandha Sevaka. They sing the Gitagovinda daily close to the inner shrine at the time of Chandanalagi (smearing the deities with sandal paste).
Devadasi Seva (Bhitara Gaani) :
The devadasi used to sing the Gitagovinda and perform dance at different times of the day. Besides, she used to sing and dance at the time of Baladhupa (first morning offering of food to the deities) every morning in the month of Kartika. She used to attend the chandanayatra of the Lord which continued for 42 days, singing and dancing in the chapa (rowing boats) for 21 days. In addition to this, the devadasi used tosing and dance at Rukmini vivah (marriage of Rukmini Devi), at the temple of Laksmi, on the day of Niladri Vije while accompanying Laksmi to bheta mandapa. She also used to attend to 16 phases of worship of Bimala in the month of Asvina and also join the ritual procession. The devadasis were Sadhibandha sevikas, which indicates their superior rank of service to the Lord. According to the prevalent rules of the temple, they were forbidden either to marry or indulge in sexual activities. But they could adopt a daughter of a touchable caste, who could be enlisted as a Sadhibandha Sevika after she was trained adequately in music and dance. At the time of any inconvenience, such as the monthly periods the Samprada Niyoga is to manage the service assigned to the Devadasi.
There are many inscriptions made by different kings of different era are found in the walls of Sri Mandir. Gajapati Prataprudra Devís inscription about Geetagovinda was found in western side of temple of 10 lines says how Geetagovinda was important in daily worship of Lord Jagannath. The inscription of 3 feet 3 inch X 1 feet 3 inch is as follows:-
1st line Bira Sri Gajapati Gaudaswara Nabakoti Karnata
Kalabargaswara Birabara Prataprudradeva
2nd line Mahajankara samasta 4 Aanka Srahi Kakada Su 10
Budhabaray Abadharita Hoi Aaigayan Pramanay Bada
3rd line Thakuranku Gitagibinda Thakura Bhoga Belay a Nata Hoiba.
Sanjadhupa Sarilaru
4th line Bada Singhara Parijantay a Nata Hoiba. Bada Thakuranka
Samparada Kapileswara Thakuranku Bandha
5th line Nachunimana Puruna Samparada Telengi Samparada
amanay Sabihay Bada Thakuranku Gitago-
6th line binda Hun Aanagita Naa Sikhibay. AAna Gita Naa Gaibay
Aana Nata Hoi Parameswaranka Chamuray Naa
7th line Haba A Nata Bitarakay Baishnaba Gaana Charijana Achanti.
Amanay Gitagobinda Gita Hi Gaibay
8th line Ahanka Tharu Asikhita Manay Akaswararay Suni
Gitagobinda Gita Hi Say Sikhibay AAna Gita Na Sikhibay Aaha
9th line Jay Parikhya Aana Gita Nata Karailay Jani Say Jagannah
Droha Karai.
That means dancing will be held in two times in a day i.e at Bhoga in the afternoon and another in the evening after Sanjadhupa to Badasinhara Besa (before sleeping time). All the dancing rituals will perform on behalf of Bada Thakura(Sri Balabhadra) and Geeta Govinda Thakura( Sri Jagannath). Only Geeta Govinda written by Sri Jayadev will sing for this purpose. The dancing of different batches like the batch of Bada Thakura, the fixed female dancers of Kapileswara Thakura, the old batch, the Telengi batch all will dance Geeta Govinda songs. Besides the dancing girls the Baishnaba singers will also sing only Geeta Govinda. Hearing in one tone from them, those who are ignorant will learn the Geeta Govinda song, they should not learn any other song. That the superintendent who knowingly allows them for other song to be sung and other dances to be performed rebels against Jagannat Gitagovinda dance and music as a Seva got performed daily in the temple. The king introduced this Seva and provided Kenduli saree to the Lord. This Seva was very dear to Lord Jagannath.
Geetagovinda seva in other temples of India
In some part of India like Bengal, Himachal Pradesh, Rajasthan and Gujarat as pictorial representation whether we find as singing or dramatic traditions in Andhra Pradesh, Tamil Nadu, Kerala, Nabadvipa and Manipur. Singing Geeta Govinda in various occasions is also various types. In Tamil Nadu, it is in the form of collective singing in Radhakalyanam Tradition and in the form of collective singing at marriage in Mithila.
In Guruvayur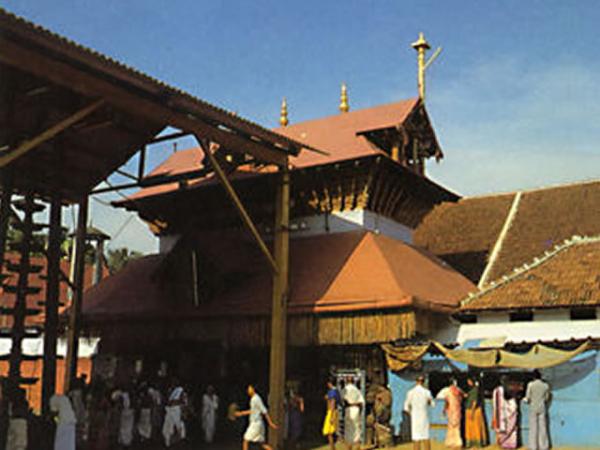 Solo singing performs inside the sanctum of Guruvayoor Sri Krishna(Guruvayurappan) Temple at Guruvayur, Kerala and other times it is collective in the courtyard. In Guruvayur Temple, Geetagovinda singing ritual performs 6 times daily. A particular person must sing Astapadi 6 times daily during pujas everyday since long years. The time is mentioned as follows:
1) 3.15 a.m Early morning puja(Oilabhishekam)
2) 6.15 a.m At the time of 1st puja(Usha Puja)
3) 8.45 a.m Pantheeradi Nivedyam puja
4) 12 noon Midday puja(Ucha Puja)
5) 6 p.m At the dusk time(after Deeparadhana)
6) 8 p.m During night puja(Athazha puja)